22 November 2003 - 18 January 2004

Open: Thurdays, Fridays and Saturdays 5-8 pm
Sundays 2-8 pm or by appointment
Closed on december 25 - 26 and january 1. The Giraudi & Wettstein architectural practice was opened in Lugano in 1995 by the architects Sandra Giraudi (1962) and Felix Wettstein (1962). It has made a name for itself in recent years with two important projects: the Basle railway station extension (1996-2003), executed in collaboration with Antonio Cruiz and Antonio Ortiz, and the Computer Laboratories of the Università della Svizzera Italiana in Lugano (1998-2002).
The borgovico 33 exhibition presents eight projects by Giraudi & Wettstein in a minimal exhibition design, specially conceived for the location.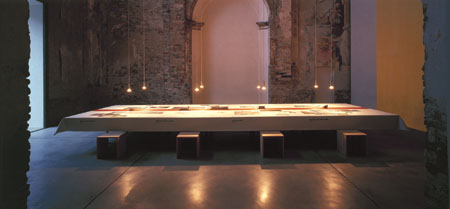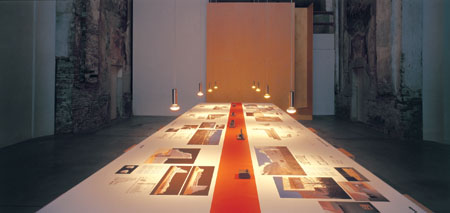 A table in the centre of the main Church space greets visitors and invites them to sit on the stools placed along it, each bearing the name of a project. The table is covered with a large canvas, on which the eight projects are printed, and has some models arranged in the centre of the table. Eight spotlights point one at each project, illuminating the half-darkened environment. Resembling a laid table and surrounded by stools, it conjures up the architect's worktop but also moments of encounter and conviviality: the table as a place of discussion, the dinner table...

The presentation of the project is completed with a projection on a loop. borgovico 33 is publishing a catalogue in co-edition with Gabriele Capelli Editor describing the exhibition and the work of Giraudi & Wettstein, with texts by the architects Alberto Caruso and Antonio Ortiz.