Music Muse: Miró
Philip Corner on the piano interprets the work of Joan Miró
April 3, 2004 - 6 pm
Curated by Giorgia Nessi





For the occasion of the exhibition "Joan Miró Alchemist of Signs", the Cultural Councilman of the City of Como and borgovico 33 Cultural Association are pleased to present a concert by the American artist Philip Corner.

Philip Corner, the well known American composer and artist, was born in New York in 1933. He has been a member of renowned groups such as Fluxus, Judson Dance Theater, Tone Roads Concerts, The Something Else Press, Sound Out of Silent Spaces, Frog Peak Composers' Collective and the Experimental Intermedia Foundation. He has performed his works in 33 countries throughout the world and has had innumerable shows in private galleries and museums.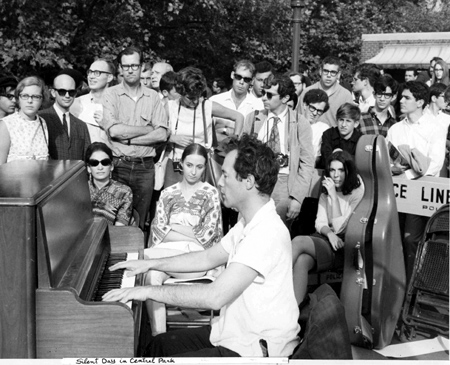 foto: Philip Corner in concert in New York.


Due to his eclectic character it is difficult to classify his work within pre-defined schemes. Referring to his activity, Corner emphasizes an interest in both the body and the spirit and how they have led him to meditative improvisations and artistic actions full of profound significance for our contemporary existence.

One of his areas of study touched on the rapport between acoustic and visual space. He studied the possibility of translating the image in an equivalent sound through methods that are neither subjective or based on personal interpretation but rather objective, using precise measurements of the structure present in a work from the start, be it a painting, architecture, a landscape or an organic phenomenon.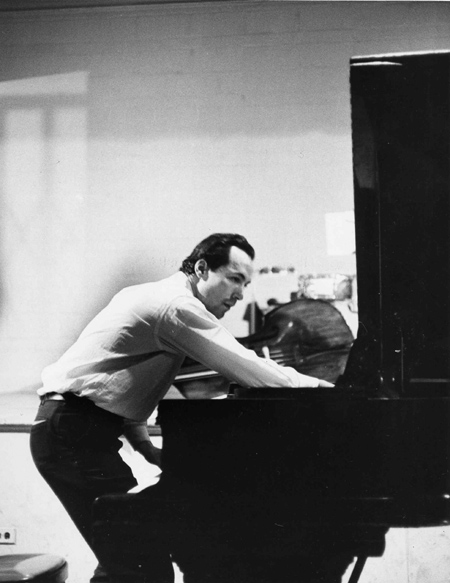 foto: Philip Corner in concert in New York.


These are the origins of the score "Music Muse", a text made up of diagrams that explain and illustrate the principles of the close relationship between acoustic and visual space. The score was conceived and performed for the first time in Utrecht in 2000 as an audio rendition of two works by the constructivist painter Theo Van Doesburg.

Philip Corner re-elaborated the score to translate several paintings of Joan Miró in sound The works lent themselves particularly well due to their perfect combination of form and movement. The three blue paintings of March 4 1961, Constellations of 1940-42 and Composition from 1950 will be projected on the walls of the evocative space at borgovico 33 Cultural Association and interpreted in an experimental concert for piano using both the keyboard and striking the strings directly with various objects.







Philip Corner (New York, April 10, 1933) studied with Mark Brunswick at New York City College (1955) and with Olivier Messiaen at the Paris Conservatory (1956-57), at Columbia University (1959) he studied under Otto Luening and Henry Cowell.

He became interested in Eastern music during his tour of duty in Korea with the U.S. army from 1959-60. Upon returning to New York he became one of the first exponents of the Fluxus movement and was a member of several important avant-garde and experimental music groups such as the Judson Dance Theater, and Tone Roads where he was co-founder with James Tenney and Malcolm Goldstein. In 1974 he founded Sounds out of Silent Spaces which played regularly at the Experimental Intermedia Foundation in New York.

For a long time Corner was a member of Son of Lion, an American group of gamelan. He collaborated with several choreographers including Lucina Childs and Elaine Summers as well as numerous theatrical groups in the United States and Europe. He taught at the New Lincoln School and at the New School for Social Research in New York and from 1972 at Rutgers University where he developed a new approach to teaching music theory incorporating concepts that are common to different cultures. He lives and works in New York and Italy (Reggio Emilia).

Corner considers the influences of Asian and other non-western cultures a fundamental aspect of modernity. When still a young musician he discovered that concerns of several contemporary American composers (especially Cage) relating to timber, micro sounds and the characteristics of single sounds were also present in Asian music. One aspect of his affinity with Eastern thinking - his interest in meditation - brought him to explore the maximum degree of simplification in musical materials. The final result of this exploration was Elementals (1976) while other works composed in the 70's (the OM series, Metal Meditations and Pulse) reflected this tendency. An important aspect in Corner's compositional technique is the integration of methodical procedures and improvisation using traditional instruments and natural objects. His innovative graphic annotations have a particular calligraphic quality and his scores are appreciated on a visual level. In an oriental manner, Corner often uses the Korean pseudonym Gwan Pok ("Contemplating the waterfall")as a signet fixed to his scores. The numerical implications of Indonesian music inspired him to create a series of works for Gamelan: an open form which is structured to be performed with many different types of instruments, in some cases including theatrical and vocal elements. Although Gamelan represents a free approach to making music for the author, accessible to Eastern or European groups and soloists, the works in this series can also be performed by a real gamelan orchestra. One of the first to assimilate Cage's influence as a precursor of minimalism, Corner integrated randomness with systematic procedures, repetition with improvisation, noise with silence and expression in a coherent combination of compositions that are an exemplary reflection of his creative and continuing encounter with Eastern musical traditions.

The Alga Marghen record company, produced by Emanuele Carcano in Milan has recently issued an important series of retrospective recordings featuring Philip Corner.