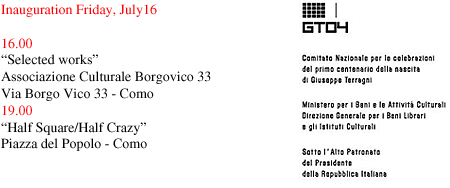 On the occasion of the first centenary of Giuseppe Terragni's birth, the Italian committee for the celebration of his career and Associazione Culturale Borgovico 33 have invited the American artist Dan Graham to realize a new work for the town of Como. Dan Graham, who has always been a great admirer of Terragni's works, has gained an international reputation thanks to his pavilions in public/private sites and his critical texts on the socio-cultural progress and the development of modern architecture. For Como he has created a pavilion called Half Square/Half Crazy, to be placed in the courtyard of the Casa del Fascio, Piazza del Popolo. The pavilion, made of reflecting glass (Antelio Elite) and stainless steel, consists of four perpendicular sides, two of which curved, and measures 240 x 600 x 600 cm. overall.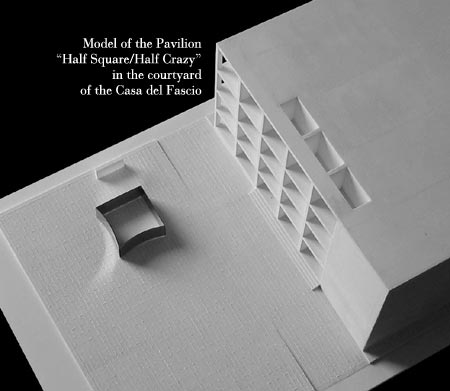 The pavilion at the Casa del Fascio is supplemented by an exhibition of Graham's works at Borgovico 33. Here, in addition to the models of Half Square/Half Crazy and other pavilions, one can view some previous works including photographs relating to the Homes for America series, two videos and some models of other pavilions. A catalogue will be available from the month of September.
The project has been carried out with the valuable cooperation of Galleria Massimo Minini, Brescia, who represents the American artist in Italy.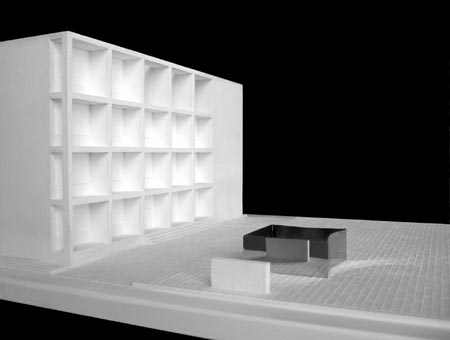 July 17 - October 31 2004
Dan Graham
"Selected works"

Associazione Culturale
Borgovico 33
Via Borgo Vico 33 - Como

Free entrance

July 17 - August 1:
Monday - Thursday
9.30 - 13.00
14.00 - 17.00
Friday
Open until 20.00
Saturday and Sunday
17.00 - 20.00

August 2 - October 31:
Friday, Saturday, Sunday
17.00 - 20.00
or by appointment






"Half Square/Half Crazy"
pavilion at the Casa del Fascio
can be visited at all times.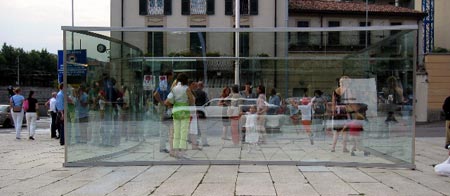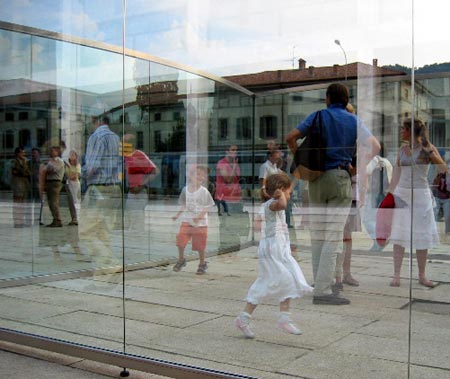 Dan Graham (*1942) is one of the most important representatives of the post-war neo avant-garde. His artistic career starts in 1965-66, with a series of conceptual works based on the use of texts and photos. Successive performance experiences, linked to psychological and interpersonal investigations with his body as the starting point, led to in-depth study on pavilions from 1980 onwards. These practicable structures, made of partially transparent and partially reflective glass, are meant for both interiors and exteriors. They are always different in type and give rise to dialectic situations involving both the context and the audience interactively. The pavilion-user is therefore both protagonist and spectator, called upon to evaluate relationships and experiences. In this way the architectural structure, once object of formal contemplation becomes a physically tangible place where people meet and exchange views. Graham sees a pavilion also as a work tool to analyze modernist architecture with a critical spirit and put it to the test through questions and checks. In other words, it is an operative means to investigate living areas through the relation between internal and external environment (private and public) and to see how the human being relates to the codes regulating urban life. Putting his pavilions in relation to the history of architecture, Graham calls into play various references ranging from the "primitive rural hut" to the 19th-century gazebo to the exhibition pavilion designed by Dutch Stijl representatives and other modern architects up to and including today's bus shelters.

"[...] The architecture which influenced me most was modernist architecture. Many of my initial works come from the Barcelona Pavilion by Mies van der Rohe or late Rietveld. They embody meanings that range from the first Enlightment to expressionist architecture. One can discuss certain "ideas", but concrete things are stronger than any critical discussion about them. If you look at a building designed by Terragni, for example, you look at a higher level of abstraction than Sol Le Witt. It's from there that I began. [...]"

(D. Graham in conversation with Daniela Salvioni, "Flash Art" (international edition), n. 152, May-June 1990, pp. 140-44).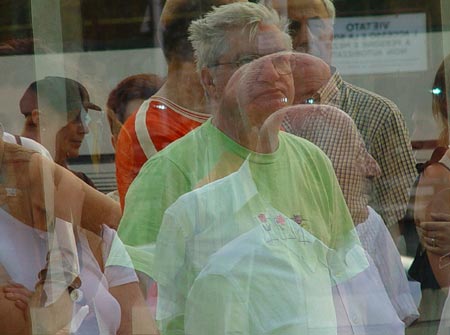 for information:

GT04
segreteria organizzativa
phone
++39 031 30 10 37
fax
++39 031 29 90 28
info@gt04.org
www.gt04.org

Associazione Culturale Borgovico 33
via Borgo Vico 33
22100 Como – Italy
phone
++39 031 57 60 29
fax
++39 031 33 85 220
info@bv33.com
www.bv33.com

CPL Relazioni Pubbliche
via Buonarroti 38
20145 Milano
phone
++39 02 43 34 03
fax
++39 02 48 13 841
ufficiostampa@clponline.it