The IFDUIF Video Festival is glad to announce that the seventh edition, in collaboration with the Biennale dell'Immagine di Chiasso, has been scheduled for Saturday, 20 November, 2004.
The manifestation is divided into two distinct parts, the first will be held at the Associazione Culturale Borgovico 33 in Como, the second in the former Calida factory in Chiasso.

The Video Program follows:

At 17.30
Ito Takashi Special
Location: Associazione Culturale Borgovico 33,
Via Borgo Vico 33 - Como

Ito Takashi, the Japanese video filmmaker, in the 80-90's began experimenting with a new film language which often used closed spaces such as his apartment or neighborhood and members of his family. Ito Takashi is talented in playing with images and music to enliven his oneiric creations which capture the spectator's attention like an abstract film hallucination.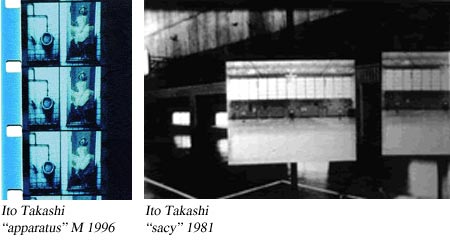 At 21.00
Special Francia – Special Italia,
Special Olanda – Special Svizzera
Location: Stabile Ex-Calida,
Via Fontana da Sagno – Chiasso

The evening is based on a selection of the most recent work of European video artists divided according to nation of origin.
The videos are each 10 minutes long maximum and are presented at a fast sequential pace to create a sort of original and first edition television viewing (everything you ever wanted to see on TV but were afraid to ask).


for informations:

for the other manifestations
within the Biennale consult
the internet site:
www.biennaleimmagine.ch


Associazione Culturale Borgovico 33
via Borgo Vico 33
22100 Como – Italy
phone
++39 031 57 60 29
fax
++39 031 33 85 220
info@bv33.com
www.bv33.com


Ufficio Cultura
Comune di Chiasso
Via Dante Alighieri 3b
CH 6830 Chiasso

phone
++41 91 695 09 14
fax
++41 91 695 09 18
cultura@chiasso.ch
www.chiasso.ch


Galleria Cons Arc
Via Borromini 2
CH 6830 Chiasso

phone
++41 91 683 79 49
fax
++41 91 682 90 43
consarc@bluewin.ch
www.consarc-ch.com


Ufficio Stampa
Ellecistudio, Como

phone
++39 031 301037
fax
++39 031 299028