Saturday, May 13th 2006, 6 p.m.
An Adventure for Fingers, Pluckers and Strings (2006)
Concert for Harpsichord

erratum musical #2
Gabriele Bonomo, curator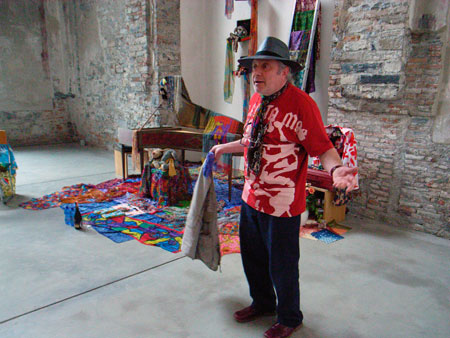 A voice among the most original and authoritative of the composers who consolidated the myth of the "Downtown New Music Scene" in New York during the 1960s and 1970s, pioneer and 'irregular' prophet of minimalism - current in whose orbit it is certainly possible to inscribe the birth of his musical style, but which doesn't exhaust all the possible definitions of his poetics -, Charlemagne Palestine has always put at the centre of his search the exigency to mix and expand the emotional reactions produced by contact with the 'physical' reality of sound, mediated by the intensity of his execution.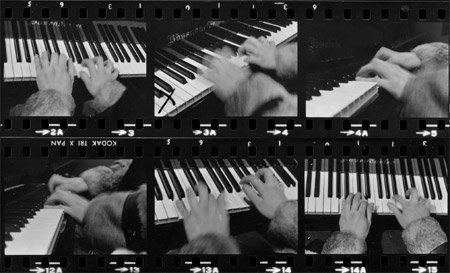 His concerts, for this reason, exceed the limits and result in the purest performing art, exalt the listener's perceptive adhesion, plunging him in the continuum of a monomorphic sounding universe gradually changing, obtained through a rigorous control of the actual execution mode: the progressive stratifications of the rhythmical density, just like harmonic and dynamic contrasts, urge the audience to tune in to continually evolving musical curvatures and to develop different levels of concentration corresponding to the periodic contractions and relaxations which 'distort', so to say, the axis of time passing. As a performer, his piano exhibitions are legendary: long extemporary sessions hinged on the Strumming technique - technique for which Palestine has developed a virtuosity unique in its kind - , improved by the 'discovery', in 1970, of the instrument which became from then on his favourite, the Bosendˆrfer 'Imperial. As effective in conveying all the implications of the artist's sound universe are his vocal performances and his organ or bell carillon concerts.





More elaborate and, for this reason, precious occasions, are his harpsichord exhibitions, protagonist of the concert that Charlemagne Palestine has accepted to offer to Borgovico33, accepting our invitation with great enthusiasm. In a space that proves the ideal container for an instrument whose 'antique' extraction can evoke the same 'aura' as the Seventeenth century architecture which has it as a guest, Palestine will play a new work at the harpsichord, inviting us, from the very choice of the title, to the sharing of an experience: An Adventure for Fingers, Pluckers and Strings.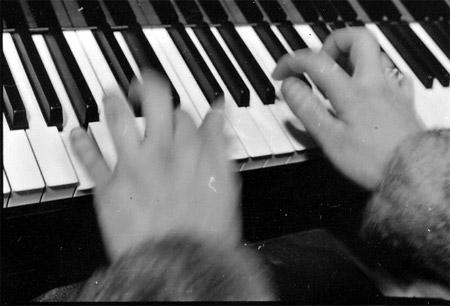 In the explicit reference to the reaction triggered off between his performing gestural expressiveness (his fingers) and the 'material' components which produce the sound inside the instrument (the pluckers and the strings) - factors which connote the essential 'physical' passion of his approach to the 'making' of music - Palestine reasserts one of the constant features which have inspired his musical art from its very origin: the action on the effusive presence of sound and on the excitement of sensorial faculties as privileged means to represent an ascesis.







Charlemagne Palestine was born in Brooklyn, New York, August 15, 1947.

1955-1961:
sings sacred Jewish music throughout the United States with the Stanley Sapir Choir.

1957:
begins studying the accordion and soon after the piano.

1959:
regularly visits Greenwich Village and becomes a conga and bongo drum player for beat poets, including Allen Ginsberg, Gregory Corso, Kenneth Anger, among others, in local coffee houses, also for Tiny Tim, the falsetto tunesmith.

1960:
scholarship to the High School of Music and Art in Manhattan, studies voice, piano, conducting, painting and sculpture.

1962-1969:
carillonneur of Saint Thomas Episcopal Church in Manhattan, playing daily at 5 p.m. and eventually composing an on-going work of 15 minutes daily segments for more than five years, a work finally numbering more than 1500 segments.

1963:
assistant to the choreographer Alwin Nikolais, composing electronic music for his dance company; creates his first pieces using electronic sound manipulations.

1964:
attends classes at the Studio School, the New School for Social Research, Mannes College of Music and New York University, studying music, fine arts, multi-media and new electronic technology.

1968: experiments with Len Lye on sound, light and magnetism as elements for sculpture, film and sound; sonic and visual installations; the same year, studies vocal production and interpretation with Pandit Pran Nath.

1969:
composes music for Tony and Beverly Conrad's film Coming Attractions; also composes for the carillon the theme music for the CBS television documentary film series Explore; works on the Buchla synthesizer at the Intermedia Center, New York University.

1970:
the composer Morton Subotnick invites him to work at the Music Department of the California Institute of the Arts in Valencia, California; moves to California; meets the dancer and artist Simone Forti; works with her on a meditative sound and movement piece entitled Illuminations; first performance and body art works; studies voice and Gamelan music in California and Java with Ki Wasito Dipuro; discovers the Bˆsendorfer Imperial piano and begins composing especially for the instrument; develops a new, alternative synthesizer, called The Spectral Continuum Drone Machine.

1971-1972:
tours in Europe with Simone Forti, as musician and performance artist; concerts, exhibitions and performance in Canada, Italy, France, Holland, Belgium, Germany and Austria; becomes known in the European art and music scene; in 1972 also works on a video-performance piece, Body Music, that inspires a suite of video work that continues throughout the 1970s; first record commissioned by the Sonnabend Gallery of New York, Four Manifestations on Six Elements.

1973-1980:
returns to New York; creates sculptural objects such as Books of Continuity, abstracts expressionistic visual scores without sound; uses a wrinkling technique as a means of turning two-dimensional objects into three-dimensional ones; during this period, engages the use of the stuffed animal toys of his performances as the raw material for a genre of sculptural altars, this material becomes the trademark of his visual art from this time on; a frequent lecturer in numerous American Universities (Buffalo, University of Southern California, New York University); teaches at the Nova Scotia School of Art and Design from 1973 to 1975; regular exhibitions and performances in

America, Canada and Europe (Sonnabend Gallery, New York; 39th Venice Biennale, 10th Paris Biennale); by the end of the 1970s, his desire to develop his visual works overshadows his concerns for performance and music.

1980-1996:
rarely appears as a performer, musician or composer; lives between New York, Hawaii, France and Switzerland (frequent one person exhibitions: Paris, Chicago, Geneva, Zurich, Montreal, Munich, Milan &; group exhibitions at the Stedelijk Museum, Amsterdam; the Moderna Musset, Stockholm; 1987, participates in Documenta 8, Kassel, with God Bear) and founds the Ethnology Cinema Project in New York, a non-profit organisation devoted to the collection, restauration, and distribution of early documentary films on disappearing traditional cultures.

1995 - :
lives between Utrecht and Rotterdam, before settling in Brussels; a new generation of younger musicians and artists persuades him to return to the music scene; begins to compose again; re-releases his earlier compositions (Felmay of Turin brings out Strumming Music in 1995, Barooni of Utrecht reissues Four Manifestations on Six Elements, The Lower Depths, Timbral Assault in 1996-1997); returns to working with video with the piËce SacrÈ AsniËres. He continues today to exhibit his sculpture, multi-media installations and videos in Europe, which has become his home.