Inauguration: Thursday, February 8th 2007, at 6pm
Novocomum on Wheels

Direct Architecture, Politics and Space
Marco Scotini, curator
Domenico Berardinelli, coordinator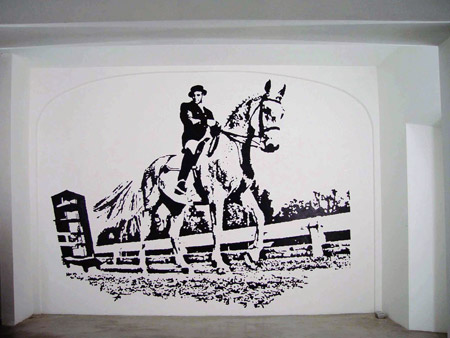 George The Rider of Novocomum
Wall Drawing, Acrylic
2007


For Direct Architecture Maria Papadimitriou has designed a mobile platform that can be moved around Como. In a derisory and light-hearted gesture, the artist has placed one of Como's best-known pieces of Modernist architecture on wheels. The famous corner solution of Terragni's Novocomum, one of the first Italian examples of Rationalist architecture from the 1920s, becomes a scale model just over five metres tall, with coloured lights on the inside that make it Pop and an example of truck-art.



Novocomum on Wheels
2007
cm 597 x 168 x 264
Wood, Neon, Iron, Wheels

Maria Papadimitriou is not new to developing realistic and tangible approaches to the construction of the contemporary city, as she demonstrated in Avliza, an abandoned post-industrial area in Athens that had over the years become the improvised settlement of a nomad Romanian Vallach community. The artist worked a sort of "environmental appropriation", as Helio Oiticica would have called it, on that site. In 1999 Avliza became a Temporary Autonomous Museum for All; a reservoir of nomadic settlement conditions and, at the same time, a collaborative project open to artists, architects, anthropologists, filmmakers and sociologists as well as the Romany community. Without interfering with the settlement's original lifestyle, it has set up a "number of social services for nomad peoples" and produced examples of a "city in transition", such as the project for a house for the Museum's caretakers and "Transbonanza Platform", a lorry that turns into a stage for live concerts and DJ sets, capable of creating public spaces "here and now". Novocomum on Wheels
2007
Animation


Maria Papadimitriou studied at the Ècole Nationale Supérieure des Beaux-Arts in Paris. She teaches at the Department of Architecture of the University of Thessalia, in Greece. She is also an active photographer. She has participated in major personal and collective exhibitions including New Trends in International Photography at the Chicago Athenaeum Museum of Architecture and Design, the Tirana Biennial, the 25th Sao Paulo Biennale in Brazil with the T.A.M.A. (Temporary Autonomous Museum) project and Manifesta 4 in Germany. In 2003 she won the Deste Prize for Contemporary Greek Artists. Subsequently, she has taken part in We'll meet again at the Reina Sofia Museum in Madrid, Playgrounds and Toys for Children at the UN Headquarters in New York, Kazino at the Gallery of Contemporary Art in Athens and the Biennial of the Canary Islands in 2006. In Italy her works have been exhibited at Nowhere Europe (51. Esposizione Internazionale d'Arte di Venezia) and Less. Strategie alternative dell'abitare at PAC in Milan.









T.A.M.A.,
1998 - 2006
Lambda print
cm 60x90


luv Car 2003
Camion Isuzu, istallazione sonora
foto di Boris Kyrpotin


Hotel Grande, 2005
Old Town of Larissa, Grecia
Public installation
Courtesy Beltsios Collection


Hotel Isola 2006, In occasione della mostra " The People's Choice" giorno dell'inaugurazione, Isola Art Center, Milano foto di Fabrizio Stipari






Maria Papadimitriou

is born in Athens, Greece in 1957. Lives and works in Volos and Athens. She teaches at the Department of Architecture, University of Thessaly, Greece

Selected Solo Shows

2006
HOTEL PLUG -INN, Castillo de San Gabriel, Lanzarote,
1st Bienal de Arquitectura, Arte y Paisaje de Canarias.

2005
Screening at the KINITRON gas station, National Road Larissa- Trikala,
Larissa Contemporary Art center, Thessaly.
Two or three things I know about him, Riflemaker Gallery, London, England.

2004
Temporary Office, AMazelab/ Olivetti Foundation, Rome.
Spazio Treno, Poetica della mobilita, AMazelab/Olivetti Foundation, Rome, Italy.
Amphiareion04 Ilumina tus suenos, Rincon, Puerto Rico.
We'll meet again, Espacio Uno, Museo Nacional Reina Sofia, Madrid, Spain.

2003
What do we really remember, Ex Convento Domenicani, Sternatia, Italy.

2002
T.A.M.A. (Temporary Autonomous Museum for) 25th Biennial Sao Paulo, Brazil.

1996
Living Spaces II, Eleni Koroneou Gallery, Athens, Greece.


Selected Group Shows

2006
The Atthens Effect, Mudima Foundation, Milan.
What remains is future, European Cultural Capital 2006, Patras, Greece.
Check in Europe, EPO Munich, Germany.
LESS alternative living strategies Pavillion of Contemporary Art, Milan, Italy.
The people's choice, Isola, Milan, Italy.

2005
The Rolling Billboard Art Project euroPART, Vienna, Austria.
PROFESSIONS , Telloglio Foundation Thessaloniki, Greece.
Myths / AntiMyths, Forum Plus, Wroclaw, Poland.
GESTURE, QUARTER, Centro Produzione Arte, Florence, Italy.
8th International Mediterranean Documentary film festival, Samos island, Greece.
GOING PUBLIC 05 communities and territories, Larissa Contemporary Art center, Thessaly, Greece.
Biennial on the Mediterranean Landscape, Pescara, Italy.
Mira como se mueven, Telefonica Foundation, Madrid, Spain.

2004
Videokunst, Locus, Athens, Greece.
Staying or leaving, Camera Austria, Kunsthause, Graz, Austria.
9th Biennial of Architecture, participation in the Greek pavilion, Venice, Italy.
Contribute to the messenger, Villa Olympica, M&M Projects, Rincon, Puerto Rico.
BODYWORKS, Center of Arts, Nicosia, Cyprus.

2003
Outlo_k, Factory, Athens, Greece.
IN DEN SCHLUCHTEN DES BALKAN, Kunsthalle Fridericianum, Kassel, Germany.
Transformers, Bikinihaus, Berlin, Germany.
Dubrovnik - _ere and Elsewhere, Umjetnicka galerija Dubrovnik, Croatia.
GOING PUBLIC, Modena, Italy.
DESTE PRIZE, DESTE foundation, Athens, Greece.
The Pioneers, Macedonian Museum of Contemporary Art, Thessaloniki, Greece.

2002
Manifesta 4, Frankfurt, Germany.
Fusion Cuisine, DESTE Foundation, Athens, Greece.
Balkania 2002, Neue Galerie, Graz, Austria.
4th Biennial, Cetinje, Montenegro.
2001
1st Biennial, Tirana, Albania.
Overexcited body, _rte e _sporte, SESC, Sao Paulo, Brazil.
P+P=D, New Art Desmos, Rethymnon Center for contemporary Art, Crete, Greece.

2000
Kiss from Greece [3], Wohnmaschine, Berlin, Germany.
Europa Edition, Saeulenhalle des Parlaments, Vienna, Austria.
Playgrounds and Toys for Refugee Children, Art For The World, Musee International de la Croix-Rouge, Geneva, Switzerland.
51fi Premio Michetti, Europe-Different Perpectives on Painting, MuMi, Museo Michetti, Francavilla al Mare, Italy.
Objecthood00, Rethymnon Center for contemporary Art, Crete, Greece.


Awards

2003
Deste Prize for Contemporary Greek Art, DESTE Foundation, Athens, Greece.




Information



Title:
Direct Architecture. Politics and Space
Curated by:
Marco Scotini
Title:
Novocomum on Wheels by Maria Papadimitriou
Period:
8 February – 27 March 2007
Opening:
8 February 2007, 6 pm
At:
Associazione Culturale Borgovico 33, via Borgo Vico n° 33 - Como
Admission:
free, Friday to Sunday 3 pm to 8 pm or by appointment
Info:
tel. +39 031 576029 fax +39 031 3385220 info@bv33.org www.bv33.org
Press office:
Chiara Costa tel. mob. +39 349 1981349 chiaracosta@alice.it
Ilaria Gianoli tel. 02 514406; mob. +39 333 6317344 ilariagianoli@tin.it